Skip to Content
Is It Time to Consider AC Replacement?
Barstow and Sons Can Upgrade Your AC in Annapolis, MD
When outdoor temperatures rise, your air conditioner is the best defense against the summer heat. You don't want to be left without a functioning AC at the height of summer, leaving you to sweat it out until a replacement can be installed. Rather, it's better to be proactive and replace your AC before it gets so old it fails completely. But how do you know when is the right time to replace your air conditioner? The team at Barstow and Sons can help you answer that question. We can help you determine when you need an AC replacement at your Annapolis, MD home, and complete the installation before your other system has the chance to fail. Please continue reading to learn more about recognizing when it's time for a replacement.
How Long Does a Typical AC Unit Last?
The lifespan of a typical home AC unit will vary greatly depending on the care and attention it receives. Those units that are better maintained will last longer than those without proper maintenance. On average, you can expect a well-maintained system to last anywhere from 10 to 15 years. This means, if your system is getting close to this age, you should start planning for replacement within the next few years. Planning ahead will help to diminish the financial burden because you can start saving funds ahead of time.
Signs It's Time for Air Conditioner Replacement
The key to replacing your AC unit at the right time is being able to recognize the signs that it's reaching the end of its life. Identifying these signs ahead of time will allow you the opportunity to plan for your replacement and will ensure you aren't faced with a total system breakdown that leaves you without AC when you need it. Some of the common signs it's time to replace your AC include:
* Decreased Performance: If your AC can no longer keep your home at a comfortable temperature, you may want to consider replacing it. This could be a sign that the system is wearing out and will no longer be able to keep up with demand.
* Poor Air Quality: A old and worn system will cause lower air quality in your home. If you notice that you have more frequent illnesses or breathing concerns in your family, it may be time to consider replacing your air conditioner.
* Weak Airflow: A dying AC unit will no longer be able to produce a powerful air stream through your vents, resulting in decreased airflow and less effective cooling. Start thinking about a replacement if you notice weaker airflow in your home.
* Moisture or Leaks Around Unit: Any sign of water or a leak around your unit is likely a sign that an internal part has gone bad. Though the part may be swapped out for a new one, you also might want to consider replacing the whole unit.
* Higher Energy Bills: If your energy bills continue to climb when you use your air conditioner, it could be a sign it's losing its efficiency, forcing you to pay more. As systems age, they become less efficient, and replacing the unit is often the best way to fix the issue.
What Are My Options for an AC Replacement?
When your air conditioner needs a replacement, you may think your only option is to upgrade to a newer but similar model. However, you have other options, and the team at Barstow and Sons can help you explore your other choices. We'll ensure you select the right model, size, and type of AC system to fit the needs of you and your family. You'll be able to choose from the following replacement options:
* Standard AC Replacement: We can replace your standard AC unit with a brand-new, highly-efficient model. This system will function in exactly the same way as your previous unit, pushing cold air through the ductwork of your home.
* Ductless Split Systems: Another replacement option is a ductless split system that allows you to control the temperature on a room-by-room basis. Rather than using one central unit for your entire home, a ductless system has several smaller units that release air to cool specific rooms, giving you a truly customizable temperature control option.
Be Sure to Choose a Reliable HVAC Contractor
With a job as important as AC replacement, you want to be sure you're choosing a reliable and experienced HVAC contractor. Barstow and Sons is a family-owned and -operated company with years of experience in the HVAC industry. You can count on us to provide expert service at an affordable price. We'll be upfront and honest with you about the service you need and all equipment and labor costs. Though we specialize in Lennox cooling systems, we're also able to replace and service other models. Whether you want to replace the system with a new standard AC unit or want to explore the option of a ductless split system, we are the team to call.
Contact Us for AC Replacement
If you've noticed a decreased performance of your AC system, it could be trying to tell you it's time for a replacement. Don't ignore these warning signs and wait until it is too late, and you're left in the heat. Instead, call our team at the first sign of trouble, and let us determine if a replacement is what you need. Reach out to us today to schedule an appointment at your Annapolis, MD home.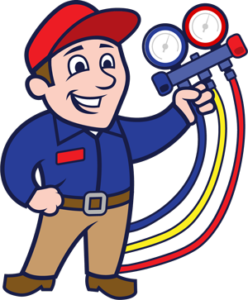 Call Today for Professional HVAC Service!