Skip to Content
Tips to Check Your AC with Summer Coming
Summer is Coming
How good are you at keeping up with air conditioner maintenance? The best course of action is to have your HVAC serviced twice a year, and when summer is approaching, it's time to schedule that appointment. Air conditioner repair can be costly, but keeping up with routine maintenance can save you from needing emergency air conditioning service at the hottest time of year. Here, we offer some tips so that you can effectively check your AC unit before summer arrives.
What You Can Do On Your Own
Full disclosure: air conditioner technicians are very thorough. When they come to your house, they will inspect your central air conditioning system from top to bottom and perform any necessary maintenance and minor repairs. However, as a homeowner, there are some steps you can take before your AC technician arrives.
Maintain your filters. Are you checking your air filters monthly? Dirty, clogged filters can drag down the whole air conditioning system, causing it to work harder and less effectively. Pay attention to the manufacturer's instructions; HVAC filter replacement frequency varies from one to three months, but you should still check on your filters every month. If they're getting dirty faster and needing replacement earlier than they should, talk to your technician about any steps you need to take to improve this.
Tend to the outside components. The area around your outdoor unit must be kept free from leaves and debris so that it can work to its full potential. Trim back any plant overgrowth, remove leaves, and clear the area round the condenser unit, leaving about a four foot radius. Then turn off the power to the condenser unit, carefully remove the cover, and clean the coils and fins. After scooping out any leaf debris, taking care not to damage the metal fins, vacuum with a wet/dry vacuum, then gently clean the fins with a hose or a soft brush. Clean the coils with a hose, or by spraying on a mixture of mild dish soap and water, then rinsing clean. Rinse the outside of the condenser, reassemble, and reconnect the power.
Vacuum the vents. After making sure nothing is obstructing them, vacuum your vents to clear them of pet fur, dust, and debris that can impact the performance of your cooling system. It's smart to do this quick task once a month, to keep them clear and clean.
Help your unit work more efficiently. Insulate the coolant lines that run from your outdoor unit to your home. Shade your condenser so that it doesn't get too hot from direct sunlight, bearing in mind that you don't want to block airflow. Consider adjusting your landscaping, strategically placing shade trees to help coo your home. It's also a good idea to have an energy audit of your home. Sometimes, small things like making sure your doors and windows are sealed or adding window film can make a big difference in the temperature of your home and the efficiency of your air conditioner.
Crank it up. Giving your air conditioner a trial run is a good way to make sure it's working correctly before you need it. You don't need to run it for very long when there's no need to cool the house. Just turn it on, make sure it's producing cold air, and then shut it back off again.
Schedule professional maintenance early. There are certain things that you, as a homeowner, should never try to do n your own, no matter what the internet may tell you. Some jobs are best left to the professionals, like cleaning the burner or replacing your thermostat. Additionally, an HVAC professional knows exactly how to inspect your system thoroughly and catch any small problems before they become major issues. These are both great reasons to schedule maintenance, but why does it matter if you schedule it early? Consider this: as the weather gets warmer, HVAC companies get busier, and their schedules fill up with people needing air conditioning service or repair. If you wait to schedule your maintenance, you may miss some small problem, leading to a loss of air conditioning during the hottest time of year. Then, you'll have to wait until a spot opens on the schedule to cool your house back down and have a functional air conditioner. When your technician does come out to your house, pay attention to any advice you're given, and fix minor issues before they become expensive problems that leave you sweating in the middle of the summer.
When to Consider an Upgrade
Talk to your air conditioner technician about options that might be better for your house. If you have a converted space, like a garage or sunroom, you might want to consider adding a mini split air conditioner or upgrading to a ductless air conditioner from a room air conditioner. If your central air conditioner is not working the way it should, or you're seeing an increase in your energy costs, it may be time to upgrade to a newer, more energy efficient model.
Air Conditioning Service When You Need It
Whether you need routine maintenance or you have a problem with your air conditioning unit, contact Barstow and Sons for help. A full-service heating and cooling service company, we've been providing high-quality service to customers throughout Anne Arundel County, Severna Park, Pasadena, and Annapolis since 1980. We've built a reputation for our dedication to excellence, and we're here for our customers 24 hours a day, 7 days a week. Call (410) 777-9148 to learn more or contact us through our website.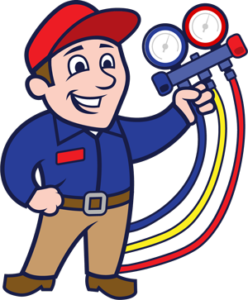 Call Today for Professional HVAC Service!